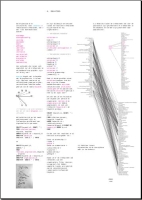 Kanttekeningen bij een databank documents our investigation into the inner workings of the database of BAM, the Flemish institute for visual, audiovisual and media art.
To visualise the data stored, we wrote a plugin in Inkscape, manually generated graphs and scripted .svg - you can read everything about what we found and how we worked in 16 pages that are inserted in the back of the CROSS-over book (in Dutch).
All documents, sketches, code etc. are gathered here: http://ospublish.constantvzw.org/kanttekeningen.