Saturday
Our Open Design Weeks in Vietnam kicked off at the Spotted Cow where we went for social drinks. There we met mainly people from IT with programming backgrounds. We also got to know our new friends from Cambodia. This was our first encounter with an on-going theme of translation issues. We found it difficult to move past a certain point of conversation, though John managed to have several interestingly recursive discussions about the problems in making multilingual websites. After the long flight it was very nice to have this chance to breath the Vietnamese air, dive in the moisture and soak in some cold beers.
Sunday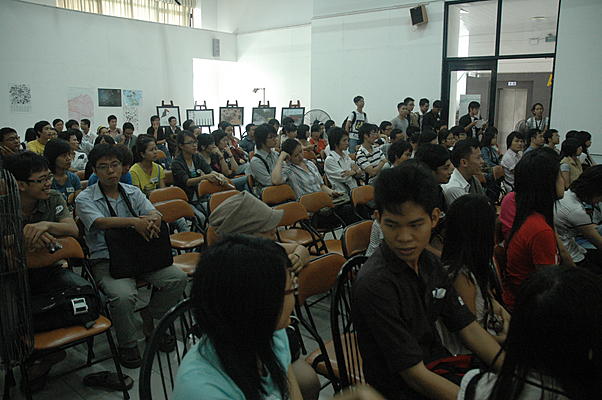 Sunday morning began early at Ho Chi Minh City University of Fine Arts where we started with a presentation about OSP to a crowded hall of over 300 people. By showing pictures we introduced ourselves as well as the members who are absent from this trip. Then to get even more familiar we each presented an example of our work. Alex presented the Scribus-over-IRC process begun at the RCA workshop, Stéphanie explained the workshop Please Computer, Make Me Design, Pierre Marchand showed off the evolution of Nancy to Fonzie and hinted at what is to come, John discussed generative typesetting with Context, while Pierre Huyghebaert took the responsibility of giving the general overview of OSP.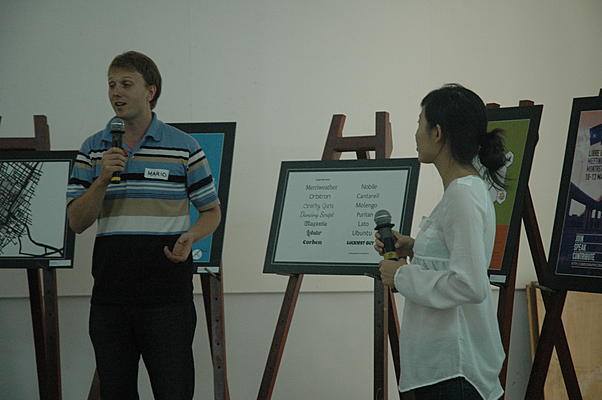 In our practice we have continuous engagement with translation (between graphic design, programming, poetics, cartography, ...) and it was quite something to see Hong Phuc translating our translations (and sometimes not translating).

Afternoon
pictures picking on the wall
different smiles
german dingbats dictee
2 dingbats actually vectorised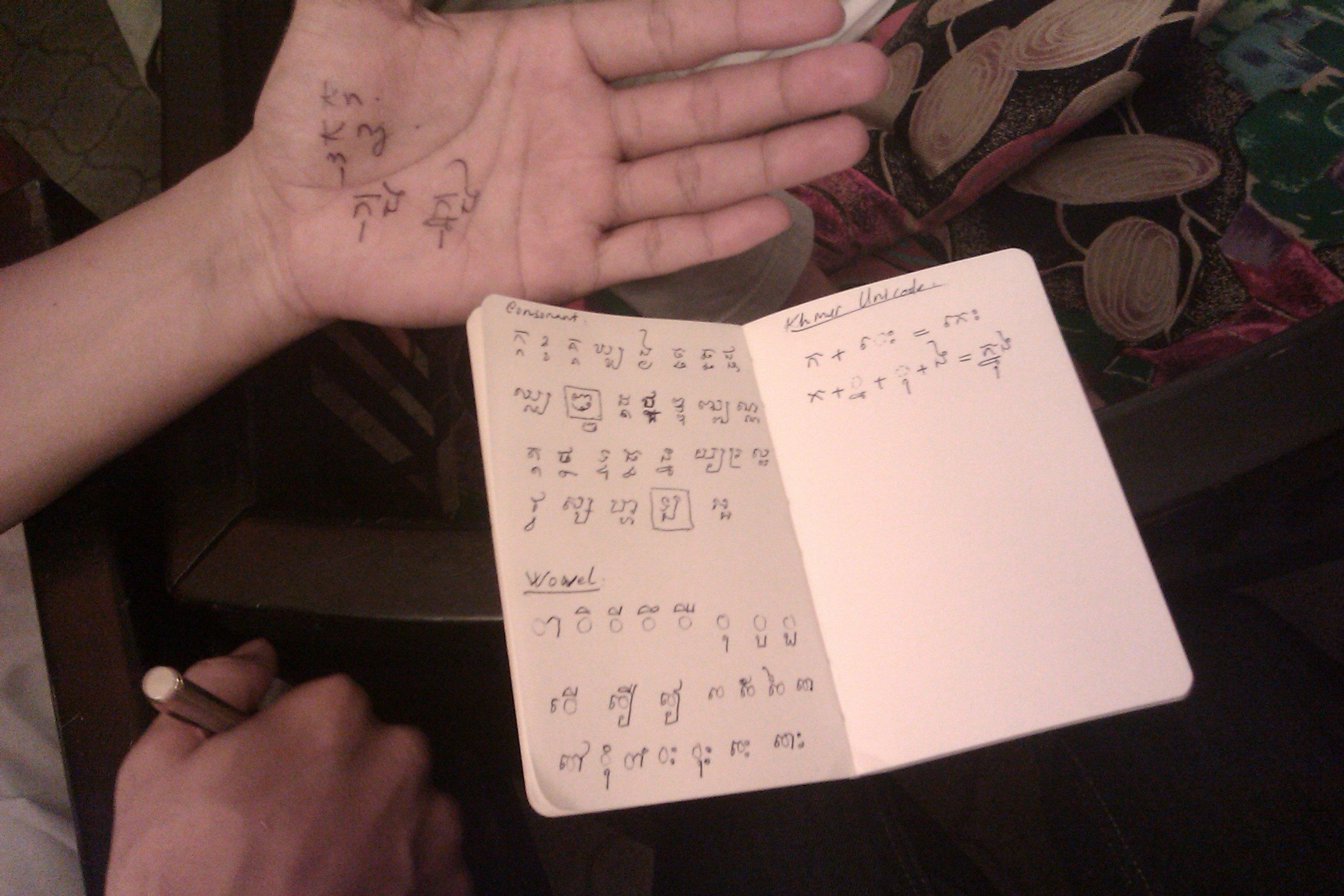 Monday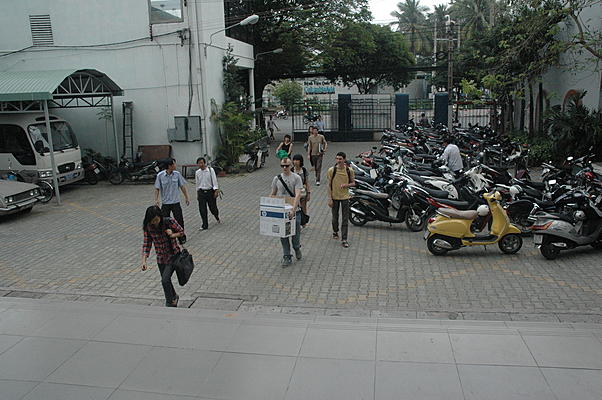 Scribus irc
Full room of people
Aprons
A clear goal : poster for the exhibition
Hong Phuc embedded
Lily also
In the morning, sketches
Then Scribus demo
PierreH on the poster - others irc comments
but also designing their own versions
Poster unfinished, but lots of excitement of the added layers by code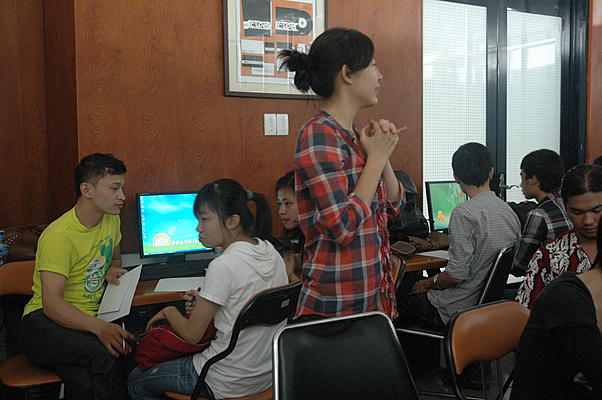 createLine(100,100,100,400)
  VIET CAC CAU LENH LEN DAY
  createEllipse(200,200,200,200)
  loadImage("logo")
  setFillShade(shade)
  createEllipse(100,100,100,100)
  createImage(50,50,200,300)
  textFlowM
  createLine(10, 10, 200, 200)
  createLine(20, 10, 200, 200)
  createLine(30, 10, 200, 200)
  createLine(40, 10, 200, 200)
  createLine(50, 10, 200, 200)
  createEllipse(184,184,100,100)
  createEllipse(184,188,100,100)
  insertText(10,20,30)
  createRect(25,35,50,50)
  createText(1,1, 100,250)
  createLine(20,20,60,60)
  createPolyLine(list,["..."]
  createPolygon(20,20,50,50,100,100)
  setText("troi oi!!","Text1"))
  createImage(50,50,300,300)
  setFillColor("White","Polygon79")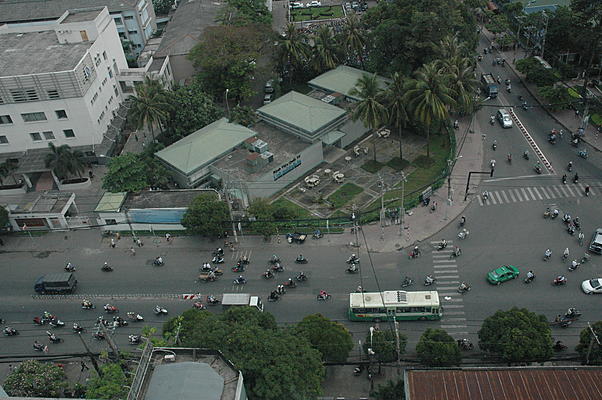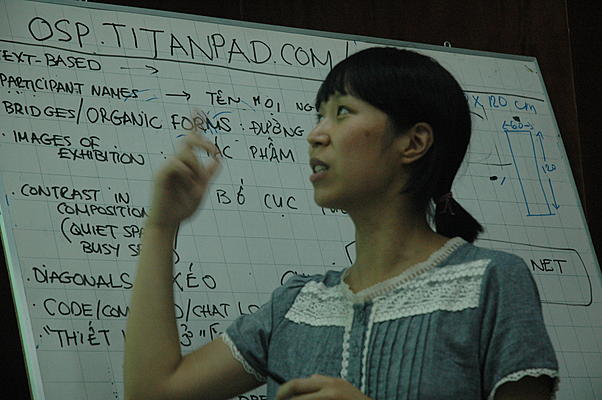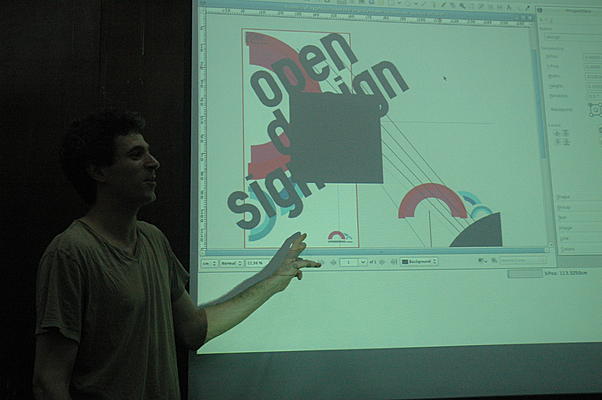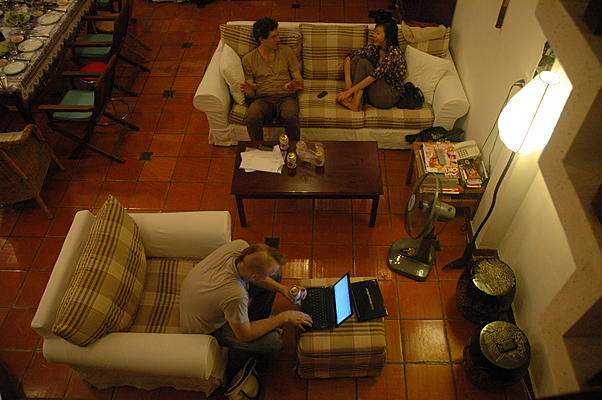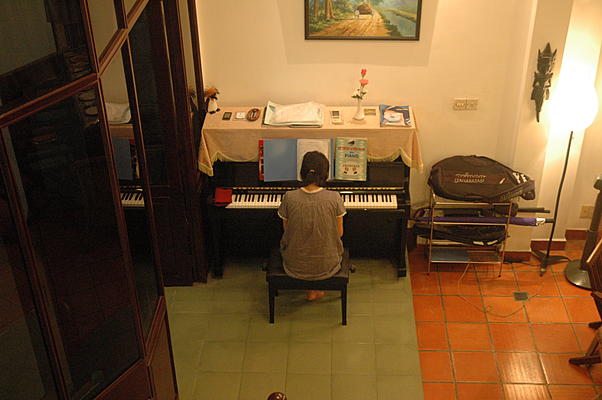 Tuesday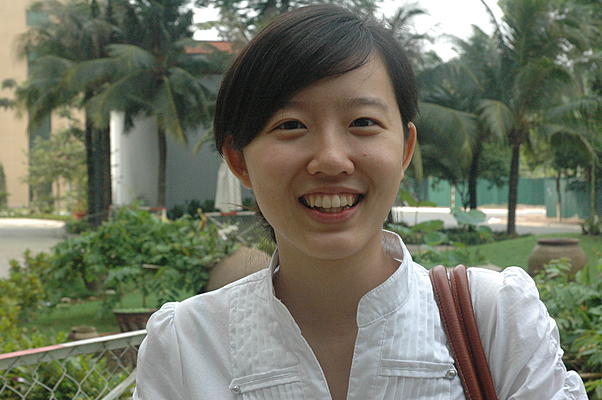 TMA experience
IT company
it seemed important for our hosts, Mario and Hong Phuc, that we give a workshop there
Only Windows machines
so command-line workshops were not possible
Scribus IRC workshop - no printed manual, only online documentation
HTML 5 demo by Singaporian friends
Context/Pandoc demo - Failed to install context on Windows
typeset an ancient vietnamese poem
Tola's presentation of his company's activities: marketing for good causes. We plan to add more on this later.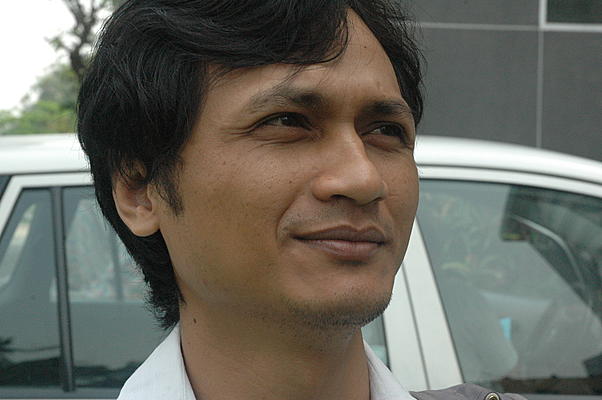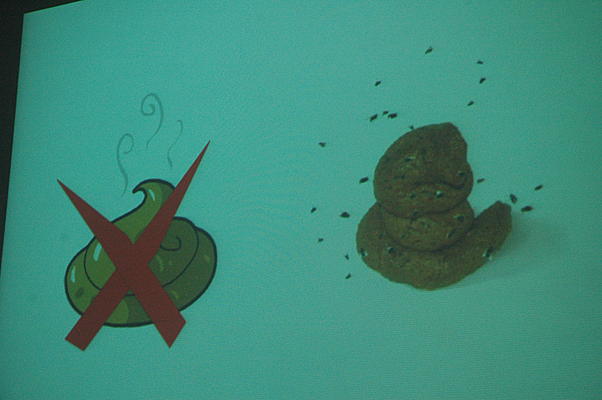 createText(10,10,10,10,"Men tests")
  createEllipse(200,200,200,200)
  loadImage("logo")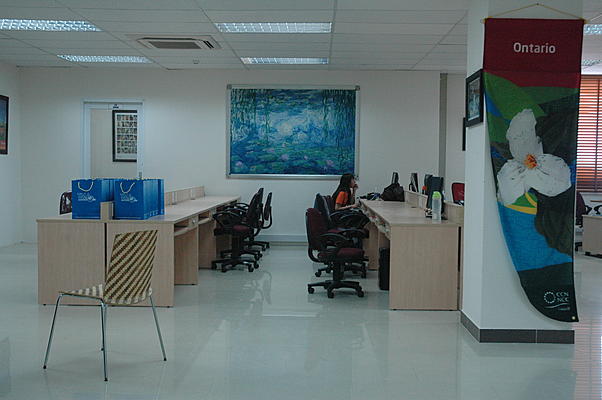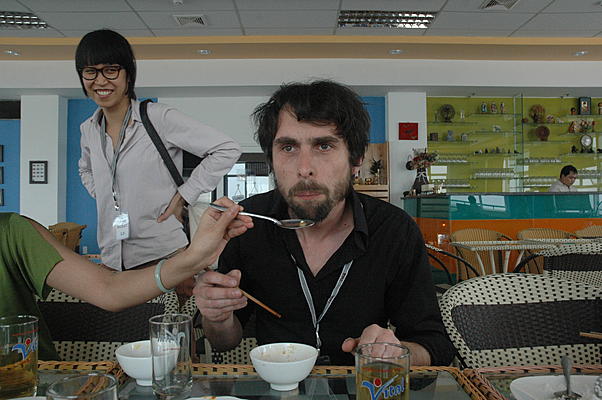 If doubt, it became clear that day that we prefer to practice instead of demoing.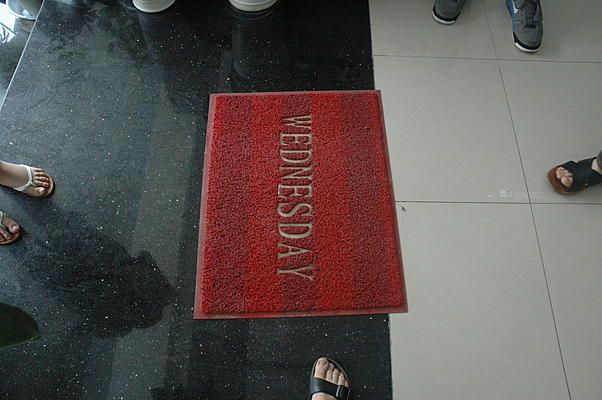 Wednesday we've been to a school in between marketing and design.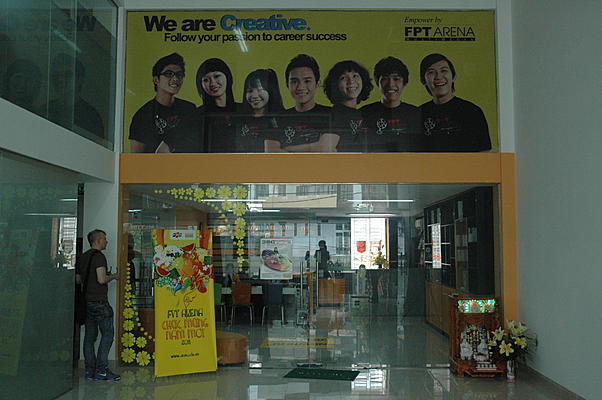 The morning was to presentation by us and our friends from Singapore and Cambodia. It was interesting to have different perspectives on free/open-source cultures. Tola (Cambodia), from a different perspective than the one of free software, talked about the power of design/marketing for being used for good causes. Sophaep (Cambodia) talked about ethical outsourcing and the intertwining of free software into a business that is at once directed at and run by swiss foreigners while maintaining an embedded existence within Cambodia. Emphasis was given to the fact the company actually pays for software licenses when it uses proprietary products, which is not only pretty unique here in Southeast Asia but also not a universal in Europe.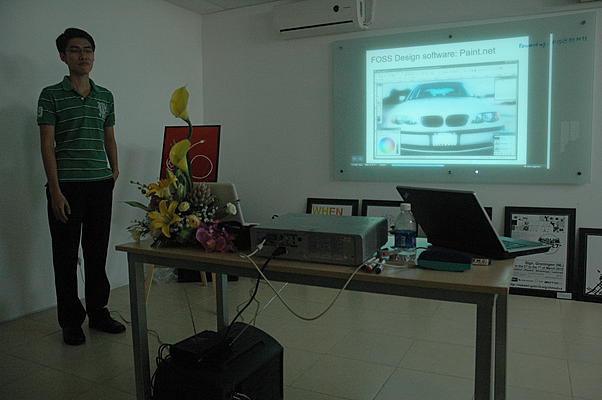 Luther from Square Crumbs instead emphasized using free software to distinguish yourself from others, focusing on how reliable and business-ready open-source is and how diverse the free software choices are. It was refreshing to see all this variety in presenting free/open source and it may have clarified somewhat OSP's own position by showing it in relation to the perspectives of others. The [jam comparison] 9http://ospublish.constantvzw.org/news/the-four-freedoms-two-rules-and-one-jam) worked more or less, but after some searching, the pickels must work better in Vietnam!
Afternoon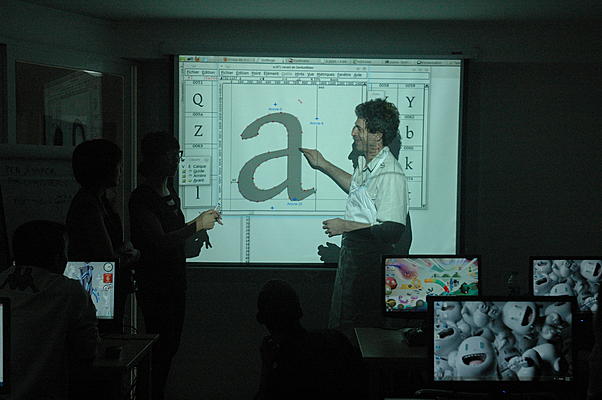 LiteralDraw workshop --Pen & Paper for Computers, an introduction to graphical output device-- failed to make a Windows .exe We ran the software on our own machines, making groups of students discovering the software with the students Translated function names in vietnamese
change line dòng
change stroke bút
change end trở—lại
change move di—chuyển
change cubic cong
change close đong
change fill điền—vào
change transform biến—đổi
change text văn—bản
change font kiểu—mâu

Thursday
Evening - mounting of the exhibition in Trung Nguyen Café the team here prepared easels and wooden boards to display the posters and illustrations. The exhibition format (wood panels and easels) raises questions amongst us, of course. How to convey some meaning with a format that refers to the way some people in the 17th century were looking at pictures as depiction of the world (paintings!). The pictures coming from Ginger, Ana, Ricardo, Dave, Andy, Jakub, Rejon, Lafkon and others.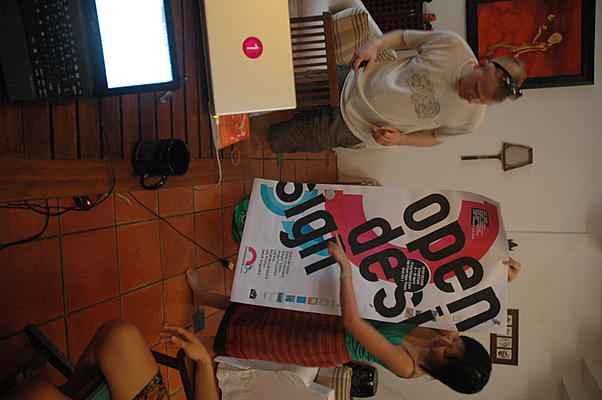 Not much choice on how to arrange the posters: we have the central space of the floor, everywhere else are tables and chairs people organizing the exhibition are surprised while reading the biographies: they don't know any of the people listed in it and wonder why we are here but not in the bios nor the exhibition so we decide to make something last minute next day.
Friday
We wanted to do something on the floor with vinyl, but we don't know where we can produce that so fast. Next plan: making a big poster covering the tables in the center and print a double-issue of Libre Graphics Magazine to be able to stack the laminated print outs. In 2 hours or so, we made a cover for this not pirated official double issue of Libre Graphics Magazine -which looks then as a strange Reader or Fanzine- and we pulled out all our blog content (texts and images) to put them on the huge poster, Scribus strangled by a python!
At 20.00, "official" opening starts. Most of the attendees are graphic design students, some we've met during the workshops, some are from other schools. Some teachers and graphic designers as well. Some students showed us their work, some were interested in pursuing the workshops at home (how to install the software used? installing Ubuntu?).
Marketing/Art
The exhibition San Art
LGM 2012
Week 1 - Saturday
afternoon: Debrief of the week at the swimming-pool evening: Trying to meet Merv Espina (connection through the Piet Zwart Institute in Rotterdam) at San Art, independant artist space. Closing party of "Open Edit: Mobile Library". Principle is to choose a book and to intervene onto it. A book of 1288 pages, history of 20th century art in China, unbound, rebound in 5 volumes according to the major color of the pictures. [! PICTURE !] An art catalogue where someone pasted pink blocks with different shades or white lines to mark the main composition of each picture or of even the catalogue page layout. [!PICTURE!] We also met Zoe Butt, co-director of the space, and we plan an interview with her next week when we come back from Can Tho. Merv invited us to go next week to an opening at [Gallery Quynh] in HCMC.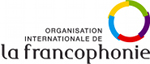 La participation OSP de l'Open Design Week a été rendue possible grâce au soutien de l'OIF