La Selec is a magazine edited by enthousiasts of La Mediatheque, a public service for renting records, movies, games and so on. Each issue La Selec invites a local artist to produce a poster inspired by their recommended selection of medias. This month it was Harrisson, so was consequently OSP. Here's the poster we did for this mythical institution.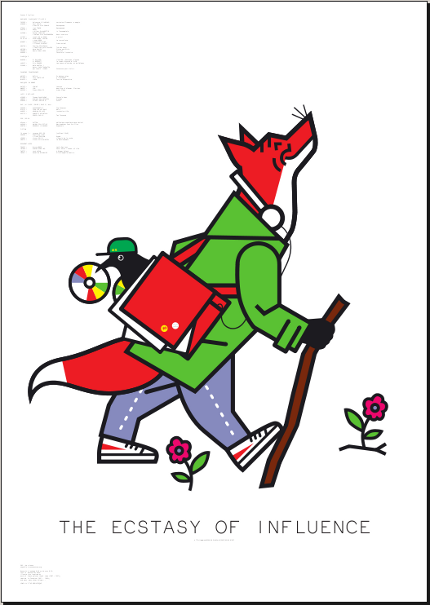 Slogan comes from an Harpers magazine Jonathan Lethems article, which is really worth to read:
http://www.harpers.org/archive/2007/02/0081387
Poster was done with Inskape 0.46 and Scribus 1.3.3.12 on Ubuntu 8.10. Font is NotCourier Sans. Illustration inspired by the work of Czech painter Josef Lada (1887 - 1957), Jean de la Fontaine (1621 - 1695), and many many other influencing things...
LONG LIVE THE MEDIATHEQUE!
Poster Playlist:
MUSIQUES CLASSIQUES TITILLEES
FS3255 – Salvatore SCIARRINO Variazioni/Framento e adagio
XC800R – Carl CRAIG
& Moritz VON OSWALD Recomposed
XT240J – Jimi TENOR Recomposed
XA518L – ANGEL
+ Hildur GUNADOTTIR In Transmediale
XV398B – Esther VENROOY
+ Heleen VAN HAEGENBORGH Mock Interiors
XV184E – Jozef VAN WISSEM A priori
Xx ou Hx – Anne-James CHATON
+ Andy MOOR Le Journaliste
NC0897 - Arnaud CATHRINE
+ Florent MARCHET Frère animal
HB4746 – Charles PENNEQUIN
+ Jean-François PAUVROS Tué mon amour
XD139B – Myra DAVIES Cities and Girls
HB4850 – Denis PODALYDES Voix off
HA0049 – Fantaisie littéraire
CLASSIQUE
BA6296 – R. BALLARD, L'Astrée – Musiques d'après
A. BOËSSET… le roman d'Honoré d'Urfé
VA0413 – Eric ROHMER Les Amours d'Astrée et de Céladon
EC5680 – Béla BARTOK /
Dmitri CHOSTAKOWITCH
par Yossif IVANOV Concertos pour violon
CHANSONS FRANCOPHONES
NB1079 – BATLIK En mâchant bien
NL1506 – Loïc LANTOINE A l'attaque!
NL4414 – LIBEN Tout va disparaître
MUSIQUES DU MONDE
MH7075 – LENINE Labiata
MN8937 – YOM New King of Klezmer Clarinet
MP2242 – Erwan KERAVEC Urban Pipes
JAZZ / POST-JAZZ
UC2695 – Thomas CHAMPAGNE Charon's Boat
UM0267 – Rudresh MAHANTHAPPA Kinsmen
UE6442 – ErikM + AKOSH S. Zufall
RAP / HIP-HOP / GRIME / BLUES / etc…
KP9392 – PUPPETMASTAZ The Takeover
KF5141 – FOOD FOR ANIMALS Belly
KA6501 – ARABIAN PRINCE Innovative Life
KA3112 – AGNOSTIC MOUNTAIN
GOSPEL CHOIR Ten Thousand
POP / ROCK
XPxxxx – PATTON Héllénique chevaleresque récital
XA544X – ANIMAL COLLECTIVE Merriweather Post Pavilion
XG672A – GRAMPALL JOOKABOX Ropechain
FICTION
[4 cotes] – Jacques ROZIER [coffret 5 DVD]
VR0220 – Dominique ABEL
+ Fiona GORDON Rumba
VE0261 – Victor ERICE L'Esprit de la ruche
VB0737 – Victor ZVIAGUINTSEV Le Bannissement
DOCUMENTAIRES
TB4501 – Bruce WEBER Let's Get Lost
TB7645 – Steven SEBRING Patti Smith – Dream of Life
TW2751 – Jack HAZAN A Bigger Splash
TN2811 – Sandrine BONNAIRE Elle s'appelle Sabine
---
You can download the SVG file of the fox and crow here: