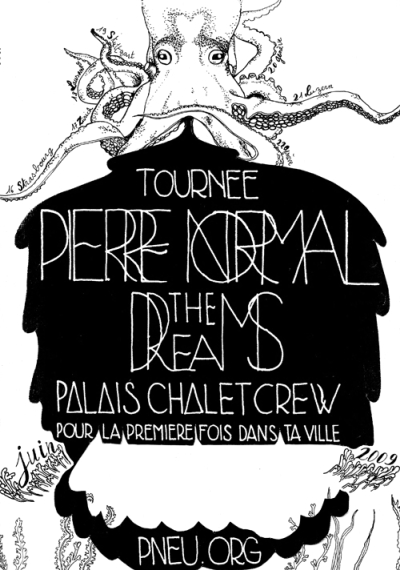 Pierre Normal (pneu) and The Dreams en tournee.
16 June - Strasbourg, Le Troc Café, Rue du Faubourg de Saverne
17 June - Zürich, Kalki, Kalkbreitenstrasse (Palais Chalet)
18 June - Lausanne, Espace Autogéré
19 June - Stuttgart, Club für Flüssigkeiten & Schwingungen
20 June - Genève, L'Ecurie, (Palais Chalet)
21 June - Luzern, tbc
22 June - Genève, Duplex, 波(なみ) La Vague, rue des amis 7, 22h, (Palais Chalet)
Handmade xerox poster done by OSP (lettering) and ATKA (polpetto). Don't miss it if you're near!