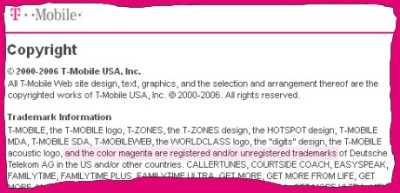 Qu'attend-on pour libérer le magenta ? A very good article by Pascal Riché on the website of rue89 on how the trademark law makes it possible for companies to own a color for a specific commercial field.
Autrement dit, si vous voulez repeindre votre maison en magenta (appelé ainsi à cause de la bataille du même nom), pas de souci; en revanche, si vous utilisez cette couleur pour un usage qui se rapproche de près ou de loin à la téléphonie, Deutsche Telekom peut mettre ses avocats à vos trousses.
Spotted via Calcyum, thanks.