[caption id="attachment_5752" align="alignnone" width="400" caption="2008"]

[/caption][caption id="attachment_5753" align="alignnone" width="400" caption="2009"]

[/caption][caption id="attachment_5754" align="alignnone" width="400" caption="2010"]

[/caption][caption id="attachment_5755" align="alignnone" width="400" caption="2011"]

[/caption]
Gaffer-tape galore at the ULB-campus again, it is that time of year. As always it takes a deep breath before I push the battered swing doors of the main location and dive under in the fluorescent-lit hallways filled with thousands of developers. The yearly Free and Open source Software Developers' European Meeting gathers participants to any F/LOSS project you can think of.

Any project? This year, none of the dev-rooms, lightning-talks, BOFs, keynotes or tracks was devoted to Libre Graphics; fonts and visuals are missing from the overloaded program except for a lightning-talk on Libre Graphics Magazine by ginger coons. Someone behind me whispers: "A yellow slide, and blue hair ... that must be interesting!", and of course it was.
[caption id="attachment_5766" align="alignnone" width="400" caption="ginger coons getting ready for her lightning-talk."]
[/caption]
In the opening-speech, Eben Moglen rallies participants to "bring Freedom to their friends in the street", and the gigantic lecture hall, filled-up to the last seat, responds excitedly to the connection Moglen makes between Free Software and current protests in Tunesia and Egypt. "There's no time to waste," he says; "Free Software must bring Freedom to the people". I'm happy too, to see FOSDEM connect to a larger political reality than the F/LOSS-community itself (the 2008 opening speech Tux with Shades, Linux in Hollywood being an all-time low) and hoping that the OS Telephony track will put a bit of nuance to the statement that freedom is "when people bring their data home".
[caption id="attachment_5759" align="alignnone" width="400" caption="Massive lecture hall fills up for Eben Moglen"]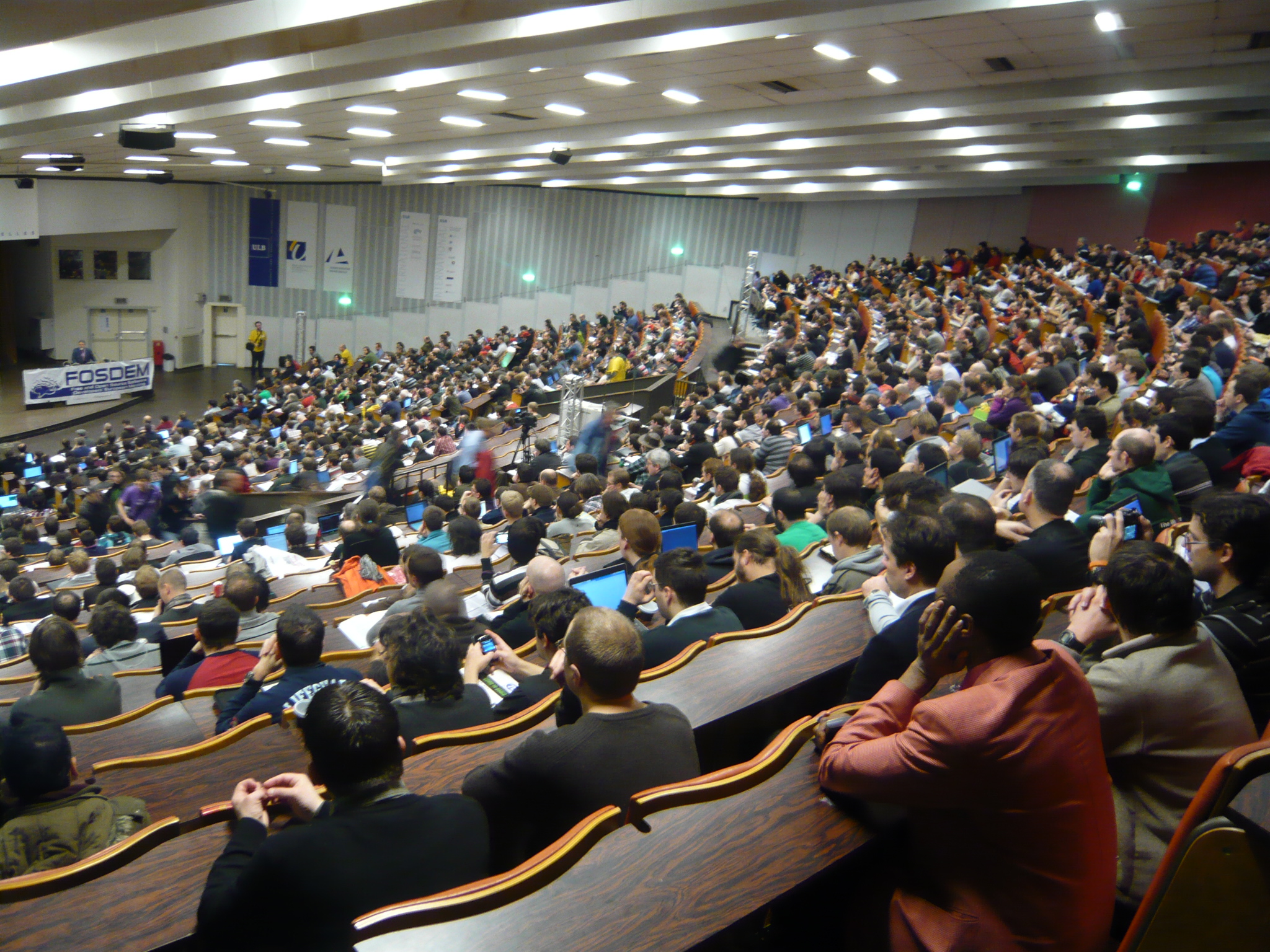 [/caption]
We meet up with Claudia, Nicu, Michael, Agnez, Juliane, Amalia, Natalia, Pierros, Koen (inviting OSP to Void Warranties in Antwerp), Wauter, John, Jon, Jakub (documenting FOSDEM this time), ginger, Donna (she is now LPI certified!), Peter (happily manning the openSUSE stand), Wynke (organised a LinuxChix meet and explained how the Anti-harassment policy made it to the FOSDEM booklet against all odds) and many more. Some of them we'll meet again tonight for dinner -- it is an opportunity to start preparing LGM 2011.
In-between, I manage to see some talks and presentations; as always a mixed bag. The interesting observations from Dave Neary ("Community Anti-Patterns") keep running through my head, and I was fascinated by the talk on Crash Data Analysis in the Mozilla Dev Room.
[caption id="attachment_5763" align="alignnone" width="400" caption="Dave Neary proposes treatment for community anti-patterns"]
[/caption]
When all talks have ended, I wonder along the row of stands, trying to decide on this years' souvenir: sticker or mug or T-shirt? I settle for a gold-colored pin: Free Software Foundation. Established in 1985.